I love reminiscing and feeling nostalgic, wrapped up in my dressing gown with a big mug of tea laughing over baby photos with my family. It's weird how time flies and looking back, we often forget to make the most of our short stay on Earth. Your teen years are supposedly the best years of your life, you're not treated as a child yet you don't have the responsibilities of an adult. However, the majority of teens (including myself) complain about school and homework so much that we often forget to think about the good times. Remember that old saying? If we didn't have bad days then we wouldn't know what good days were. So I think sometimes, maybe every few months of so, its nice to sit back and reminisce about the good times, especially on one of those days where the entire world seems set against making your life as miserable as possible. However, as much as it is great to do this, I have the memory of a goldfish. As a result, last Saturday afternoon I sat down and got on with a little arts and crafts. I created a memory jar where I can write down all of my best memories to look back on in years to come.
You don't need to go trailing around shops and shops looking for the materials. You need a mason jar which you most likely have at home but if you don't do not fret- they can be bought for about £2 in most supermarkets. I also used some pretty lilac ribbon that I found around the house, as well as some absolutely adorable floral wrapping paper. (Oh and scissors and glue, how could I forget?!)

So to start with cut out a smallish rectangle shape from the paper you're using (whether it be floral or not). Stick this on the side of your jar but make sure its not at a funny angle. I then used my typewriter to write out 'My Memory Jar' which I cut out and stuck on. for me, this made the jar feel so much more 'vintage-esque'. After sticking this on, I tied the ribbon around in a cute little bow. And taa-daa - you're all done!
Now after this little reflection on life I have decided that from now on I am going to embrace every opportunity life throws at me - whether that be spending less time on Instagram and more with my family, hugging my little brother more often or going on mini-adventures; I'll do it. You never know, one little opportunity embraced could lead to so many more amazing opportunities.
So, the question to ask yourself is this; have you been making the most of life recently?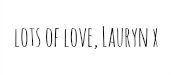 You can see my other 'Vintage inspired DIY' post here: 'Teacup candle'