I have finally succumbed to it. After many months of dragging my sorry little bottom away from the Maybelline Counter I bit the bullet and jumped onto the blogger bandwagon. Call it what you will, but I caved in when I realised my over spending at Boots had given me a nice little sum of £4.99 points on my boots card. So yes. I did it. I caught up with the bandwagon at last and jumped aboard, with this rather special thing in tow. If you haven't been living under a rock alongside Patrick in Bikini Bottom, then you will have undoubtedly heard of The Maybelline Eye Studio 24HR Colour Tattoo's. But yes, this is another belated Maybelline Colour Tattoo review, simply because I just don't think that there are enough out there already (I have a tendency of lying to myself also...).
Maybelline Colour Tattoos claim to last for 24 hours. However, I cannot possibly imagine a situation in which you would be able to test out these claims, so unfortunately cannot vouch for this. The longest period of time I wore this eye shadow was for around 8 or so hours and I can happily report back that it did indeed stay put.
Texture wise, this is a cream/gel eye-shadow. This means that it is incredibly easy to work with and is built up easily. You swirl your finger or a brush around in the pot and it transfers from the pan really easily unlike other cream shadows which need a bit of work. It's really soft and due it to being more creamy, its very malleable. Thus, the blending aspect is great. When first applied, the shadow looks very pinky, although once blended it gains more a gold finish with a hint of pale pink. (Don't worry you won't look like you're suffering from conjunctivitis).
Stealing the phrase from
Bourjois Delice de Poudre Bronzing Powder (AKA the 'Chocolate Bronzer')
this eye shadow is 'filled with glints of sunshine'. Once applied, the shadow has an ever so subtle shimmer to it which isn't too heavy but is still apparent. This makes the shadow great for both daytime as well as for the evening as its also thoroughly build able. However, if you're not a big fan of looking like you've just walked out of a glitter factory, then do not fear as it's not so apparent unless you choose to build it up.
Another great thing about this eye shadow is that it can be worn alone, or as a base. I have worn this alone, as well as pairing it up with 'Platinum' from the Bobbi Brown Smokey Cool Eye Palette (review next week!). The two colours both have hints of minuscule pieces of glitter which do a lovely job of perking your eye area up

.
The pigmentation is also excellent, and you don't get a 'poof' of excess shadow likewise with powder shadows. The shadows have also been labelled a dupe for MAC's infamous 'paint pots'. Whilst I haven't tried these out myself, the similarities are strikingly similar, alongside both products receiving great reviews throughout the bloggosphere.
However, as with most products, there will always be a few cons amongst the abundance of advantages. Firstly, and most likely the biggest downside of this product, is the fact that you have to get blending on this incredibly fast. I reckon that you have about 35 seconds before it dries completely and will not budge, no matter how warm your fingers are. I guess this is what Maybelline are referring too when they talk about it being metaphorically a 'tattoo', eh? A further downside is the 'lack', I guess I could say, of the product. As cute and 'aww' worthy as the adorable little glass jar is, the bottom half of the jar acts as a magnifying glass. This gives the impression that there is more product than there actually is, when there is in fact less product than first anticipated. Moving swiftly onto the last disadvantage, which I suppose could be interpreted more as a possible improvement is the colour selection. I guess it could be said that the colour selection is a bit of a mixed bag. I find that most of the colours are a bit too garish for me and would prefer to see more neutral colours for everyday wear. Whilst 8 shades are available to us in the UK, the US have many more. Over here in Rainy England, we are left with garish blues and glittery purples (you would be a very lucky girl to be able to pull these colours off) the US (if you're over the pond, then a big hello to you *lucky cow*) have multiple tones of bronze as well as a lot more neutrals.
To sum it up in a short and sweet sentence; the Maybelline 24HR Colour Tattoo in 'Pink Gold' is a lovely cream shadow that gives an effortless yet chic impression, although the collection is limited in choice. I plan to pick up 'On and Off Bronze' as has been raved about to no end, but for now, I'm more than happy with 'Pink Gold'.
Now onto a little update! At 8:15 tomorrow morning, I will be boarding a train to Belgium and will not be returning for a week. I am going on a French Exchange (to Belgium) and whilst I am sure there will be internet available, I would like to immerse myself in a new culture and leave the internet alone for a week. In all honesty, a good break will do me good! I have scheduled next week's posts as well as a few tweets, but if I seem a little absent on the interacting side, then do not panic, I am in fact alive but just in Belgium! Have a lovely week, and I will be sure to get back to you with comments/emails/tweets upon arrival back in England!
Have you tried any of the Maybelline 24HR Colour Tattoo's? What were your opinions?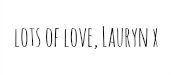 P.S You can enter my 500 follower giveaway
HERE
-
Including SOAP&GLORY, LUSH, CATH KIDSTON, YANKEE&MORE! Good luck!