One thousand. Each year, on average 1000 people are killed by icicles in Russia. 1,000 aluminium coca cola cans weigh less than 35 lbs A total of 1000 people make up 0.00001419244% of the global population.

A total of one thousand people follow Lauryn's Notebook on Bloglovin.
*virtual first pump and squeal of sheer euphoria*

As Augustus Walters once wrote "My thoughts are stars I cannot fathom into constellations". My thoughts in this current, overwhelming moment? THANK YOU. I cannot begin to comprehend the sheer number of you who enjoy reading my somewhat nonchalant and frivolous virtual chatter to the extent of ambiguously clicking the shiny blue bloglovin follow button. It's beyond my disposal of all 26 letters of the alphabet and billions of words to condense and express my utmost gratitude and appreciation to all of those who have cheered me on up to this point; prior TO the era of 'Lauryn's Notebook', when 'Funfairs and Fairydust' was still a thing; through copious ill-suited blog designs and poor quality photographs accompanying sore attempts at meaningful blog posts.
In reality, we can sit doing all of the number crunching we fancy, but at the end of the day, the numbers don't really equate to much. Sure, whilst you could argue until the cows go home that the numbers supposedly represent some degree of success within the blogging world, without any interaction this presumed success will only ever be short lived.
BUUUTTT, THERE'S SOMETHING EVEN MORE OVERWHELMINGLY EXCITING....
'LAURYN'S NOTEBOOK' IS SHORTLISTED IN THE COMPANY MAGAZINE STYLE BLOGGER AWARDS!!!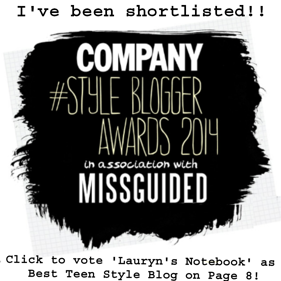 Not only is Company Magazine my uttermost favourite magazine (as you have most likely inferred to multiple references to them on copious posts), its an absolute honour to have been given such a prestigious opportunity. YOUR votes, YOUR support and YOUR help have allowed to me to begin filling every ounce of potential buried within the HTML of this web page. It's truly overwhelming.
Which is why, this giveaway originates from the bottom of my heart as one big, enveloping thank you hug. Consider each word ever typed upon this little corner of the internet a fragment of one big hug, or, if you would prefer, one virtual piece of the Mean Girls' Spring Fling Queen Crown (although please do not consider me the next Lindsay Lohan...). Thank you for every tweet, comment, DM, email, 'like' and an abundance of other endorphin-bringing activities that have helped 'Lauryn's Notebook' blossom into the wonderful outlet and source of happiness, that I have grown to love, cherish and prioritise over my (non internet) social life.
My quest into achieving my dream as a journalist has been indented upon; 'Lauryn's Notebook' the source of this scratch to the surface. 'Lauryn's Notebook' allows me to access such a creative outlet to ramble of about whatever takes my fancy. Blogging has influenced my life in a way that could not have been achieved in no other; my outlook on life has developed dramatically. I have learnt to appreciate the small things in life and more importantly, I value the impact of the inescapable era of digital advances. If you'll forgive me for this one, it really is mind-blogging.
If I had the blue genie from Aladdin at my disposal, then rest assure that each and every one of you would be granted your own magical oil lamp to conjure up your own wishes and dreams. As that is not quite the case, I can only do my best to offer up a selection of small gifts that I hope will bring the same feeling's of contentment and appreciation as all of your continued support has brought me over these past 8 months (to this day!)!
So, what will you win?
1) One LUSH Gift Voucher to the value of Ten British Pounds
2) One Aqua Tangle Teezer*
5) 1 set of contemporary Nail Art Tattoos by Fake Tattoos (Review HERE)*
However, there are a few rules to this giveaway:
This Giveaway is UK ONLY because worldwide postage is extortionate (I'm sorry)

If you are under 16 then you must have parents/guardians permission to enter so they're assured that nobody creepy is sending stuff to your house.

This giveaway is open to everybody, apart from SPAM or COMPETITION ACCOUNTS.

Any invalid entries will be removed.

You MUST complete ALL mandatory entries to be in with a chance...I will be checking!