(Thumbs up for the classical windswept photo)
Despite the weather man's predictions of thunder and rain and hence my imperative requirement for a coat, umbrella, cardigan, an inflatable tent, a pop up hotel and a hot air balloon, my over-expertise in preparation proved pointless with the lovely hazy
mugginess that descended upon the
quaint
seaside town of Southend-On-Sea last Saturday.
We may have been enlightened to a subway hunt, lunatic ride runners and overpriced fish and chips but we did revel in knotty hair and extreme thirst.
The day kicked off in rather mundane terms - we arrived at Betsy's (Liz's) at 11 and her dad (quick shoutout to Andrew) drove us down to Southend. Our first stop was her Grandma's in order to say a quick hello and get her new school skirt taken up. The need for doing so is because our school has decided that once we reach year 11, they fancy making some quick cash on the side, hence why we have to wear a WHOLE NEW uniform to "help aid your daughter in the transition into adulthood and maturity". Here's to going to an all girls school focused solely on grades and appearance rather than welfare. If I had a set of blogger emoji's then rest assure I would insert a flurry of unfavourable ones right here but, alas, thank God I don't.
On a slightly happier note we watched 'We're the Millers' on the way there in the car, and in spite of the plot revolving around drug smuggling and strippers with swearing here, there and everywhere, it's actually a brilliant film. Not one that you would want to watch sitting next to your parents mind. Will Poulter's performance (fun fact: he's Jack and Finn Harries' good friend!) was flawless as was Jennifer Anniston's, Emma Roberts' and Jason Sudeikis'. Lest we forget how everybody was giggling at my oblivious self who happened to have my hands over my ears with my eyes sticking out more than that guy on Britain's Got Talent a few years back. Three words: IT. WAS. TENSE.
Regardless of my tendency to become over-involved in somewhat whimsical film plots, the day was undoubtedly brilliant after I climbed down the film-beanstalk along with my magic beans (kidding my Adventure Island wristband).
We spent the early part of the afternoon exploring the ironically named 'island'; joking with the staff who most likely found it amusing on our behalf of going on the 'kids' rides; leaving our bags in precarious places due to the no-bags-on-rides rule and (me) moaning about when we could go and get food.
By the time three o clock rolled around, we set off as far away from the deliriously priced on-site food services as we could(literally) and headed up towards the high street. With Holly recently turned vegetarian we headed in a hunt for a Subway only to be greeted with one on a side street after walking the entire length of the highstreet and back. Despite discovering the sought-after sandwich shop, Holly decided to head into Boots where she picked up a Falafel and Humus wrap, a fruit pot and bottle of water. With our red faces, more than likely sweaty armpits and sore feet we strolled along the promenade in search of a good old chippy.
We found a fish and chip shop that looked reasonable and upon two old people giving up their seats and finishing their coffee's at double speed we felt the need to eat in. Adventurous, I know. I chose the traditional cod, chips and peas (as pictured above) whereas Betsy and Izzy both went for a more run-of-the-mill
option with Betsy going for a chicken burger and chips and Izzy deciding upon a hot dog with onions and chips. A very chippy lunch out I suppose.
The food was unexpectedly lovely, although the good-food-feeling was slightly dampened when the bill arrived detailing that I paid £0.80 for about 10 peas. 10 PEAS. You can buy a whole tin for 80p! The waitress said, 'w
ould you like some peas with that' and little old me thinking they were just being nice went along with it only for them to charge me. I suppose nothing is free in life.
Adventure island itself was great. I loved how it had the funfair classics (those spinny types that look like they could spin off into outer space at any given second) but with the more permanent rides found at the likes of Thorpe Park and Alton Towers. It had a lovely, relaxed vibe that is only ever truly present at the seaside, yet undoubtedly reinforced by the happy screams and constant laughs echoing around the vicinity. My favourite rides were Rage (the stereotypical loop-the-loop coaster), the turtle swings, the ghost train and the crocodile ride. That's not to forget 'Skydrop' aka the uppy-downy-bounce ride that initiates a feeling that can only be described as a bladder tickle. I hope that's not too weird a description. A more mundane way of describing it would have been the feeling of when
your belly rolls over. Yep, that's the one. The ghost train was great simply for its nostalgic funfair association. It's so cliché (spoiler alert: it has a false 'oh no lets fool everyone' ending) but in such a comically raw and child-like way that it made me feel like I was six again and clinging to my dads arm in a creaking ghost train at a pop-up funfair.
I suppose the day got even more adventurous after we repeatedly went on the same ride at least 7 times in order to get those theme-park ride snapshots taken that you are encouraged to purchase on overpriced keyrings, mugs, magnets and various other overpriced novelty nic-nacs (which we did not succumb to due to our teenage-driven lack of funds). Holly somehow managed to get her leg in the air out of the car at one point giving the impression she was waving a wax-work leg in the air which made our (and the ride-runner's, *Elliot*), day. Personally, the best picture was when we pretended to be asleep and sincerely un-entertained. It wasn't an easy task mind. Keeping still with a straight face and closed eyes whilst you head into the ambiguous roller coaster ride ahead with your head bashing from side to side is not an easy mission. Especially when there are bite marks in the head rests as a lasting sentiment of those who found it a little too on the wild side of life.
Have you ever been to Southend-On-Sea?
Have a lovely weekend,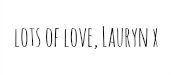 Find the Girls (instagram):
Holly: @holly.xox
Izzy: @izzyy__
Betsy: (she doesn't have one-loooossssser)
This months 'All Grown up Notebook' Advertiser is Chloe from
http://realityleaveslotstoimagination.blogspot.co.uk
/
- go and check out her blog!
Fancy advertising with Lauryn's Notebook? For more details, you can either head to my advertising tab at the top of the page, or click
HERE

!